Forever Knight: St. John Sibling Series, Book 5
Gabrielle Vargas grew up an equestrian. Discipline her mantra, she has reached Olympian level. She doesn't believe fun and responsibility mix, a lesson she learned when her parents divorced because her father loved playing more than working at The Joust, a medieval theme venue he bought with his wife's inheritance.
Renn St. John grew up surrounded by crumbling castles and rehabbing broken and abandoned animals in the streets of Eastern Europe. Horses at the top of that list, he's drawn to The Joust where he discovers stunt riding. On the surface, it's everything an adventurous, fun-loving guy could want out of life. But Renn also wants what his siblings have, someone to share the happiness with.
When Gabrielle's estranged father tells her he's dying, she returns to The Joust only to learn all he wants is for her to take over his legacy and keep it alive. Gabrielle sees only a run-down business located on prime real estate. Give-up her life to serve her father's dream, or sell the property and go onto Olympic glory? Easy choice until she meets Renn and chemistry strikes. Then again, maybe not so tough a choice as she sees Renn as just another man playing at boyish games like her father.
But something is rotten at The Joust. The numbers don't add up. The business shouldn't be failing. While Renn strives to heal a broken-hearted Gabrielle, she wonders if Renn can help her pull the business out of debt, or if the fun-loving knight might not be part of the problem. She doesn't need fun, she needs answers.

Medieval themed venue, The Joust, is failing and Olympic level equestrian Gabrielle Varga questions whether stunt-riding knight Renn St. John is the problem or the solution.
What They're Saying
Forever Knight is a sexy, fun story, but it also shows characters struggling with life decisions, and discovering what they really want, what's truly important, and what they're willing to sacrifice to get it.  It's a five-star book with great humor and heart. Readers will enjoy The Joust and its atmosphere, especially the horses. Readers will adore Gabrielle and Renn. The duo is intelligent, witty, stubborn, and charming. A great read! by Virginia McCullough, author of The Jacks of Her Heart
"Forever Knight is a charming read. Modern-day chivalry set in a medieval-themed supper club where knights clash in battle while diners cheer. Sparks fly when a modern Knight and an Olympic-level dressage rider engage in a little horse-play. Fun, steamy, and enchanting. I loved it." from Steve Mitchell, author of the Z-Bot series
"Forever Knight just may be my favorite St. John Sibling series book yet.  Barbara Raffin has a unique way of weaving tales and bringing her characters to life causing me to think about them and their story long after I've read the book." By Val Clarizio

Seeking Bliss
Bliss O'Hara poured all her love into raising her orphaned brother and the romance novels she wrote. Now that her brother's an adult and gone, why isn't she looking for Mr. Right? Because the perfect man for her might just be a creation of her imagination, the hero she penned to life in her crossover action-adventure series. He's not real until the flesh and blood image of her fictional hero strides off the pages of her novel and onto a television talk show set during an interview.
Former Navy SEAL Jake St. John, the eldest of the St. John family, runs a high risk security firm out of Mexico. He's livid someone is putting him and his men at risk by detailing their missions in a novel. Searching out the author leads him to Bliss O'Hara. Turns out the source of Bliss' research has been her brother who works for Jake. But now he's missing.
Naturally Bliss wants to find her brother. Jake has his own reasons to hunt down the kid. As the security firm's computer guru, the kid knows way too much about Saint Security. But it isn't a simple case of missing persons. Her brother is mixed up in something that endangers them all. To solve the mystery Jake must work with Bliss. And working with Bliss forces Jake to face he's more than the weapon SEAL training has made of him.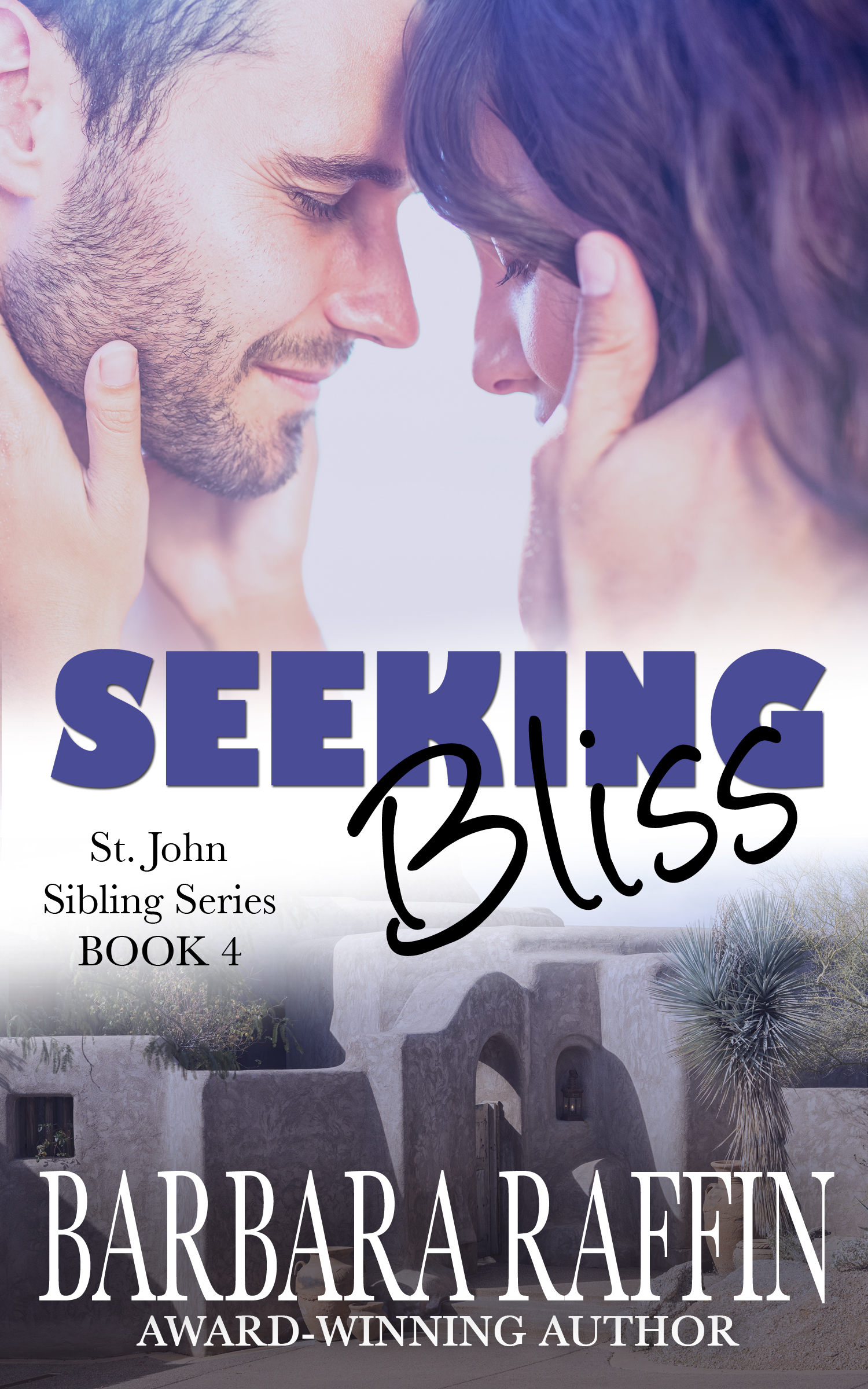 When Bliss O'Hara's perfect hero walks off the pages of her latest novel and into her life in the form of former Navy SEAL, Jake St. John, it's to accuse her of stealing his life.
What They're Saying
"SEEKING BLISS is the third book I've read in Barbara Raffin's St. John Sibling and Friends series, and I love them all! I found myself pulling for Jake [St. John], hoping he'd realize, before it was too late, that he was worthy and deserving of the kind of love his siblings had found in their happy ever afters in the other books in the series. Barbara Raffin has a way of breathing life into her characters, making them seem so real, lovable, and humanly flawed." – Valerie J. Clarizio, author of the Nick Spinelli Mystery series https://valclarizio.wordpress.com/ 
"What a phenomenal read. Well written characters. A love story you could believe in. The heroine healing the hero. This one deserves to win."  Write Touch judge
"I enjoyed the mistaken identity first meet and the plot twists about the gaming world that kept you guessing about what Robbie had gotten himself into." Aspen Gold Judge
"I loved the beginning.  Just too fun." Aspen Gold Judge

Craving a Hero
Conservation Officer Kelly Jackson always said heroes were just ordinary people who did extraordinary things. Unfortunately, she didn't believe there was any man out there who would do anything extraordinary for her. Not that she was looking for a mate. She was a woman focused on proving herself as a CO to the world and her father.
Then Dane St. John showed up in her little corner of world with the looks, the ego, and the charm to take him to the top as an up and coming movie action hero. He paid attention to her. He made her feel like a woman. He was the perfect fantasy tryst.
Too bad he turned out to be a whole lot more substantial than some airhead hunk and Kelly fell in love. Too bad because, in spite of his strong family values, his idea of having a family fell into the someday category; and history had taught Kelly, when a man isn't ready for a family, he can't be counted on. So, when she discovers their affair produced a baby, she doesn't tell him because there are no heroes… not for her.

Excerpt for Craving a Hero
Epilogue – Added 2014: free read
For downloads purchased prior to December 10, 2014:
Epilogue Added, free read
Kelly Jackson has always craved a hero; but Movie Action Hero, Dane St. John might be just too much of a fantasy for her.
What They're Saying
"Barbara Raffin has created a love story… Kelly and Dane (despite his budding stardom) both come across as real life individuals with real life concerns and insecurities…And the internal dynamics of Kelly's family add an additional reminder of the fact that sometimes events outside ourselves can greatly affect our own choices." – Rick Roberts, platinum-recording artist and author of Song Stories and Other Left-Handed Recollections
"In Craving a Hero, Raffin delivers another sexy love story laced with humor, but it's also a heartfelt book, involving the complex entanglements when what seems like a lusty attraction rapidly turns into something deeper, not to mention consequential. Raffin is so good at taking readers inside a dilemma and then letting us wonder if these characters will walk away or solve the problems. Now I'm waiting the next St. John book to come out!" – Virginia McCullough, award winning author of Greta's Grace
5 stars: "I loved this book! I haven't read a book, other than "How To" books, in 30 years. Wow, did I pick the right one to start again. The author had me cheering for this unlikely couple all the way to the end. I love that the female lead in this book was not a girlie girl, that she knew her way around the woods of Upper Michigan. This is book #3 in a series of five. I will be buying the first two, and awaiting the release of book # 4." Posted on Amazon by J.A.

Finding Home
When life handed Dixie Rae Carrington lemons, she made lemonade. Widowed in her mid-twenties, her husband's life insurance depleted by a custody battle with her father-in-law over her son, and the mortgage on her dream restaurant more than she can handle, she starts over with a defunct farm alongside a rural Wisconsin highway. She turns the first floor of her grandmother's farmhouse into a restaurant, the upstairs spare room into a rental, and the empty barnyard into a haven for cast-off animals.
se
When life handed Sam Ryan lemons, he ran. But, after running away from his problems and obligations all his adult life, Sam's uncle offers him a means back into the good graces of his family. Unfortunately, what the family patriarch wants Sam to do is vilify his son's widow, Dixie.
Will Dixie discovering Sam's deceitful purpose ruin his chances at becoming part of the real family Sam wants, Dixie's?
Finalist in Amazon Breakthrough Novel Award contest (under its former title No Place Like Home)
Nominee for BTS eMag Red Carpet Review Award.

After running from responsibility all his life, Sam Ryan runs into Dixie Carrington, the one woman who can teach him how to turn lemons into lemonade.
What They're Saying
4 stars:  "A sweet and charming and quick read you'll enjoy." — Cassandra Graham for BTS eMag
5 stars: "I love this book. This is a series of 5 books. I have read the first three and can't wait for the next one to come out. Mrs. Raffin's work is so good. She has again created characters that keep you in suspense of what is coming next, will love work out between . Dane and Kelly? Buy the book you will fall in love with Mrs. Raffin's work. This is another book that I was pleased to buy. I hope many readers will give it a try, it is well worth the money. Good job Barb! I own quite a few of Mrs. Raffin's books, and have never been disappointed." Posted on Amazon by Pepper
"I first bought this book when it was called "No Place Like Home," which is also an apt title. I so enjoyed this book, and the author had me smiling a lot through it. I don't think I've read any author that is as good at the "flirty" banter of romance as Raffin. I've read other Raffin titles, but this is my favorite, and now I'm hooked on the series." 

Taming Tess
When architect Tess Abbot's house catches on fire during renovation, she blames building contractor Roman St. John for the blaze.
A man of his word, Roman honors a boast Tess had goaded him into making, that if the job wasn't done on time she could move into his house. As bad an idea as moving in with a hot, marriage-minded man is, the career-minded, never-going-to-marry Tess stubbornly holds him to his word.
But escalating sexual tension and close quarters confound her determination to keep her hands off the one man who could reduce her to the "June Cleaver" status her father has planned for her.
But Tess adds spark to Roman's life and he likes it. Now all he has to do to win Tess' love is to tame her…but not too much…in this modern day Taming of the Shrew story.
Nominee for BTS eMag Red Carpet Review Award.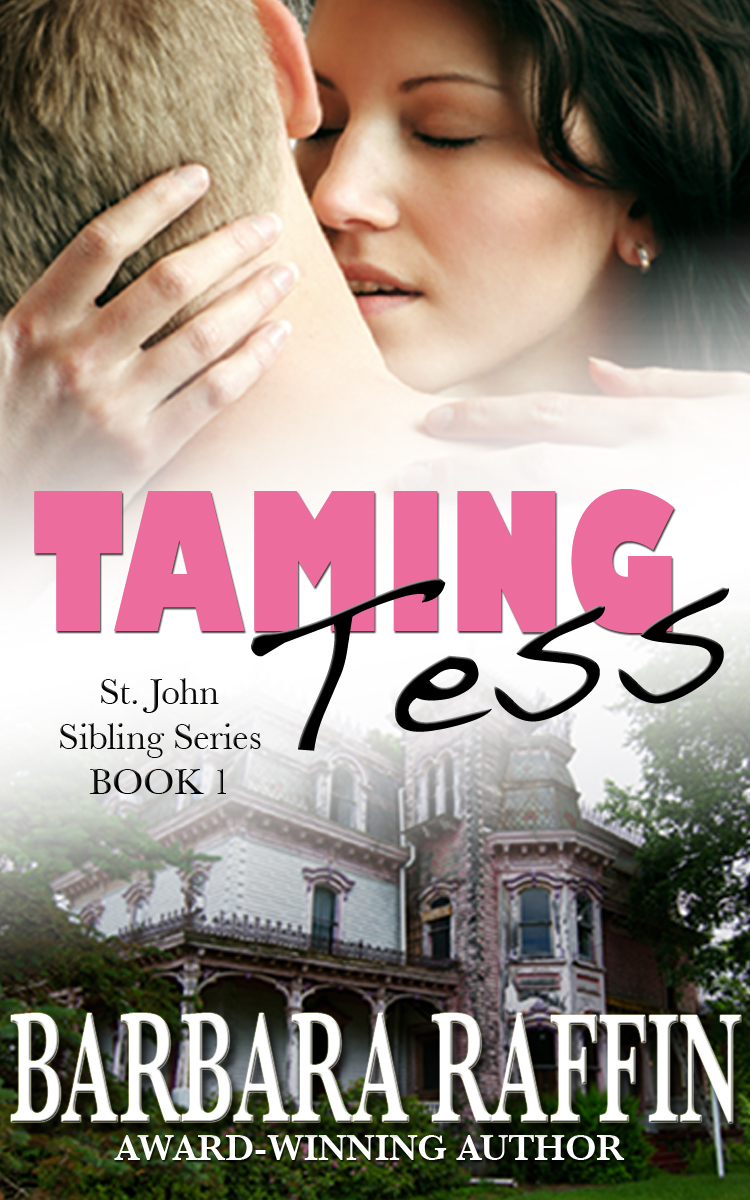 What happens when fate drops a soul mate into the lap of a woman who vows never to marry?
What They're Saying
4 ½ Stars Goodreads
4 ½ hearts "This is a well-written, humorous story that had me laughing out loud and I really enjoyed it as the sparks flew between these two lovable characters; I could not wait to see what they would get into next as I flew through the pages." — Sandra for The Romance Studio
4 stars: "…had a lot of laughs. A nice, enjoyable read you'll like." — Cassandra Graham for BTS eMag
"…a truly funny romantic comedy that will keep readers laughing throughout." —Two Lips Reviews

Saving Andi: a Spin Off Series of the St. John Siblings
Cole McCall is shot, dives off a bluff, and hits his head. Now he has amnesia and can't remember who wants him dead or why. He doesn't even know which side of the law he operates on.
Fortunately for him, Andi Johanson finds him at the camp he's broken into. Given her family history of being on the wrong side of the law, her distrust of lawmen, and a guilt she carries over her younger brother's death, she takes Cole home rather than to a hospital and nurses him back to health.
But their attraction is jeopardized by their pasts, her secrets, and the fact whoever wants Cole dead has tracked him to Andi's cabin.

WINNER!!!
Cole McCall has amnesia & someone wants him dead. Now they've tracked him to Andi Johanson, a woman who'd given up on hope until she found this wounded stranger.
What They're Saying
"An addicting combination of romance and suspense that grabbed me from page one – don't miss it!" – Stacey Joy Netzel, NY Times Bestselling author of the Colorado Trust Series.
"Barbara Raffin does a wonderful job creating believable characters you can't help but care about and root for in an instant. Raffin had me flipping pages hoping Andi would find her happy ever after." – Valerie J. Calrizio, author of the Nick Spinelli Mystery Series
"Fun, interesting author. Loved all of the St. John Sibling Series." Amazon Post by Nancy Naigle