The Visitor
Widow Rebecca Tierney returns to the family home situated on Michigan's Upper Peninsula bluffs nine months after her husband's death to scatter his ashes on the largest, coldest, and most unforgiving of the Great Lakes—Lake Superior which is known to never gives up its dead. Unable to handle the grief of losing her husband and the romance they shared, Rebecca becomes a recluse.
She soon finds out there's more than just memories in the old Victorian house than of a love ended too soon. A Visitor from afar has appeared and searches the house for the key that will stop his alien race from dying on his home planet. Rebecca can either help the clone reach his goal of finding a shipwreck, or let him die. When a young girl goes missing and another from the clone's world surfaces, hard choices must be made.
Only the secrets of an old house can free Rebecca from her grief and teach a man of logic that love is worth more than eternal life. Will she open her mind, and he, his heart to the unlimited possibilities?

Nine months after he's been cremated, Rebecca Tierney's husband shows up in her living room…naked.
Reviews of The Visitor
"Intriguing, surprising, amazing. I really enjoyed this story. An alien entity of pure energy sent across the galaxy to retrieve something needed by his people, clones a dead man to give him form and function on Earth. Then he meets the widow of the dead man. Mystery, plot twists, and a warm, almost impossible relationship. I couldn't ask for more from a novel. Well worth the read."
—S. C. Mitchell, Author of The Blarmling Dilemma
I couldn't put [Raffin's THE VISITOR] down! It has an unusual plotline that's fresh and intriguing with three-dimensional characters so compelling I was drawn hook, line, and sinker into their quests. Barbara has a gorgeous way of writing that allows her readers to feel every nuance her characters feel. THE VISITOR is a book you'll want to tell all your friends about."  –Karen Wiesner, award-winning author of the romantic psychological thrillers and Writer's Digest top selling FIRST DRAFT IN 30 DAYS http://www.karenwiesner.com

Wolfsong
The last place Madison Montgomery expected to find love was on a hunt for a rapist.
When she joins Native American Walker Armstrong's wolf re-population project in the wilds of Michigan's Upper Peninsula, he sees her as just another city-bred female dabbling in the latest trendy cause, not unlike the last woman in his life. She betrayed him.
But he soon learns Madison's motives are more complex. As Madison teaches brooding wolf-tracker Walker to trust his heart once more, he teaches her that is takes passion to free her heart.
23 Weeks on the Top Ten Best-Seller List!
Write Touch Readers' Award Finalist!

The Last Place Madison Montgomery expected to find love was on a hunt for a rapist.
Reviews of Wolfsong
"Ms. Raffin spins a tale of mystery, supsense as well as romance, her writing pulling the reader into the story with vivid descriptions. I felt as though I were standing right next [to] the characters…. This one is a definite keeper for my shelf. I see more great books…from this talented author!"
-Tara Lynn for The Road to Romance
"When the sexual sparks ignite between this wounded man and woman, Wolfsong really sizzles. The suspense plot is involved enough to keep the action moving and the author shows how love can be a powerful healing force. But it's the passion she infuses in Maddie and Walker that stands out as the strongest aspect of the book."
-Chris Carsten
"Brimming with excitement, suspense and tension, Wolfsong is a captivating read, boasting a thrill packed plot and strong, interesting characters."
-Astrid Kinn for Romance Reviews Today
"As beautifully written as a haunting melody, Wolfsong is going on my keeper's shelf. I fell in love with Ms. Raffin's harmonious style and her mesmerizing story-telling technique. Simultaneously, I bit my nails trying to figure out who the rapist was and having hot flashes over Madison and Walker's very sensual, passionate romance."
-Elaine Hopper for KnowBetter.com
"This contemporary drama has a romantic conflict that you can appreciate. The background of the story – the wolf search and look at nature in the Michigan UP – is well written and realistic. Ms. Raffin tells a story of an ordinary woman who while doing an ordinary job…, also does something extraordinary…and unexpectedly finds love while looking for peace."
-Cy Korte for Book Isle & Paranormal Romance Reviews
4 Stars from RT Book Reviews "This is a must read. I highly recommend it."
-Kathy Boswell

Time Out of Mind
They died time and time again, but their love lived on.
Not even Michael Archer knows if he's come to save or destroy Samantha Moore. He knows only that, in countless lifetimes, he has always affected her death before she can turn thirty. This time, he has found her just ten days prior to her thirtieth birthday.
Samantha doesn't believe in anything that can't be proven. She lives in the here and now, her goals tangible…until Archer shows up with his improbable past and a disturbing link to her father's death.
But, Archer and Samantha must unite if they are to alter their entwined destinies. The question: Can Archer convince Samantha to believe the improbable in time to save herself?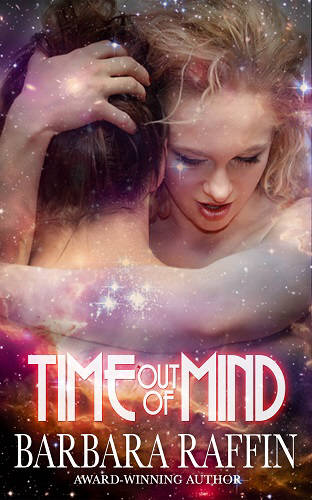 They died time and time again, but their love lived on.
Reviews of Time Out of Mind
1/2 stars "A powerful novel…"
-Affaire de Coeur
"Ms. Raffin has written a brilliant book with an extremely interesting premise of reincarnation. I couldn't put this book down."
-Jan Crow for The Word on Romance
"Time Out Of Mind combines suspense, romance, and the paranormal to form an enjoyable book. The issues of reincarnation, karma, and fate deciding your destiny were nicely incorporated into the plot. Ms. Raffin teases her readers with glimpses into the previous incarnations of Archer and Samantha, demonstrating her skill at transportingher readers to different places and situations."
-Julie Shininger for Escape to Romance
"An intriguing and different novel, TIME OUT OF MIND avoids the confusion of many reincarnation novels. Archer…is all man, the perfect hero. Samantha is…easy for the modern, driven woman to identify with as she is torn over vital decisions. Sensual tension remains high from page one to the end with credible suspense building towards the climax." — review by Amanda F. Killgore for Scribes World
"Ms. Raffin has written a brilliant book with an extremely interesting premise of reincarnation. I couldn't put this book down." — review by Jan Crow for The Word on Romance
"Michael Archer doesn't have the name of a hunter by accident. He's spent countless lifetimes hunting for his one true love, The tragedy is, every time he finds her, she dies.
TIME OUT OF MIND will stick in my mind for a long while. If you enjoy stories that read quickly yet leave you sated in the end, pick up TIME OUT OF MIND today and enjoy the ride. I did." — Jaycee for Romance Review Today
4 1/2 stars "Raw and intense emotional reactions from…the characters….infuses every paragraph with passion and drama. Raffin's brilliant use of language echoes the setting, adding to the rising tension as Michael and Samantha find themselves compelled to relive the past in a desperate effort to change Fate this time around. This reincarnation tale is one of the best I've ever read–a stunning evocative and suspenseful love story that leaps off the pages into the reader's heart." — review by Jane Toombs for Scribes World

The Scarecrow and Ms. Moon
Jackson Wolfe made a witch mad and now he's a scarecrow in her garden.
Hero Jackson Wolfe, in hiding his secret, lies to his lover little knowing she's a witch. Jessie Moon sees lying the same as being disloyal and, in a fit of anger, turns the man she loves into a scarecrow. Never mind she's never revealed she's a witch, a lie by omission. He hangs in her garden for four months while she exhausts every spell to restore him, faces the retribution of the Witch's Council by going to them for help and is put on probation by her coven.
On All Hallows Eve, the coven assembles at Jessie's house to restore Jackson to his living, human form at the stroke of midnight. Jessie soon learns her future in the coven isn't the only thing at risk. She has the twenty-four hours of Halloween to prove she can control her impulsive anger and love Jackson enough to let him go or he will be turned back into a scarecrow forever.
And that's only half the story.

Don't make a witch mad or you could wind up a scarecrow in her garden, and that's just the beginning of the story.
Reviews of The Scarecrow and Ms. Moon
The Scarecrow & Ms. Moon by Barbara Raffin (Dame Jade): FOUR STARS! I found this story and plot to be amazing. Huntress Reviews
[One of] my favorites [is] The Scarecrow and Ms. Moon… The characters were interesting and the plots were unique. I found Jessie easy to identify with. I think most people can relate to her feelings of anger when she believes she has been betrayed. The situations and dialogue are humorous, and the characters are engaging. The plot is interesting and I would like to read more about the characters. Bitten by Books
4 Siren Stones! Siren Stones
4 Stars: Raffin's The Scarecrow and Ms. Moon is filled with humor and romance, as Jessie's coven arrives at her home to punish her for changing her beloved boyfriend into a scarecrow. Amy Lignor for RT Book Reviews
5 Stars. Readers Favorite
4 Stars Overall! "The Scarecrow and Ms. Moon by Barbara Raffin: A very sweet story that kept me guessing until the end. I honestly didn't see that coming.
~Robyn Roberts for Once Upon a Time Romance Reviews
I think the Scarecrow and Ms. Moon is a wonderful read and I was glad to have read it. It's always nice to find Halloween stories this time of year and it certainly got me ready for the holiday. http://hea-reviews.blogspot.com/2010/10/review-halloween-treasures-anthology.html
4 stars: "Sweet, funny and true to life, this paranormal romance touches on the strength of love, forgiveness and trust." by Marie Haney of BTSemag

Jaded
With the help of doomed, eerily familiar lovers from days gone by, Hannah Calder and Jake Griffin learn that scars don't need to wall a person off from life and that it takes more than wealth to create happiness. This time around, they ignore the nay saying, and the rich man and the waitress take a leap of faith beyond their fears and prove that love can overcome all.
Awards Received:
Eppie Winner
Reviewers' Choice Award Winner (RT Book Reviews)
Romantic Times Top Pick
Best Book of the Year (Ecataromance)
Golden Rose Reviewer's Choice Award Winner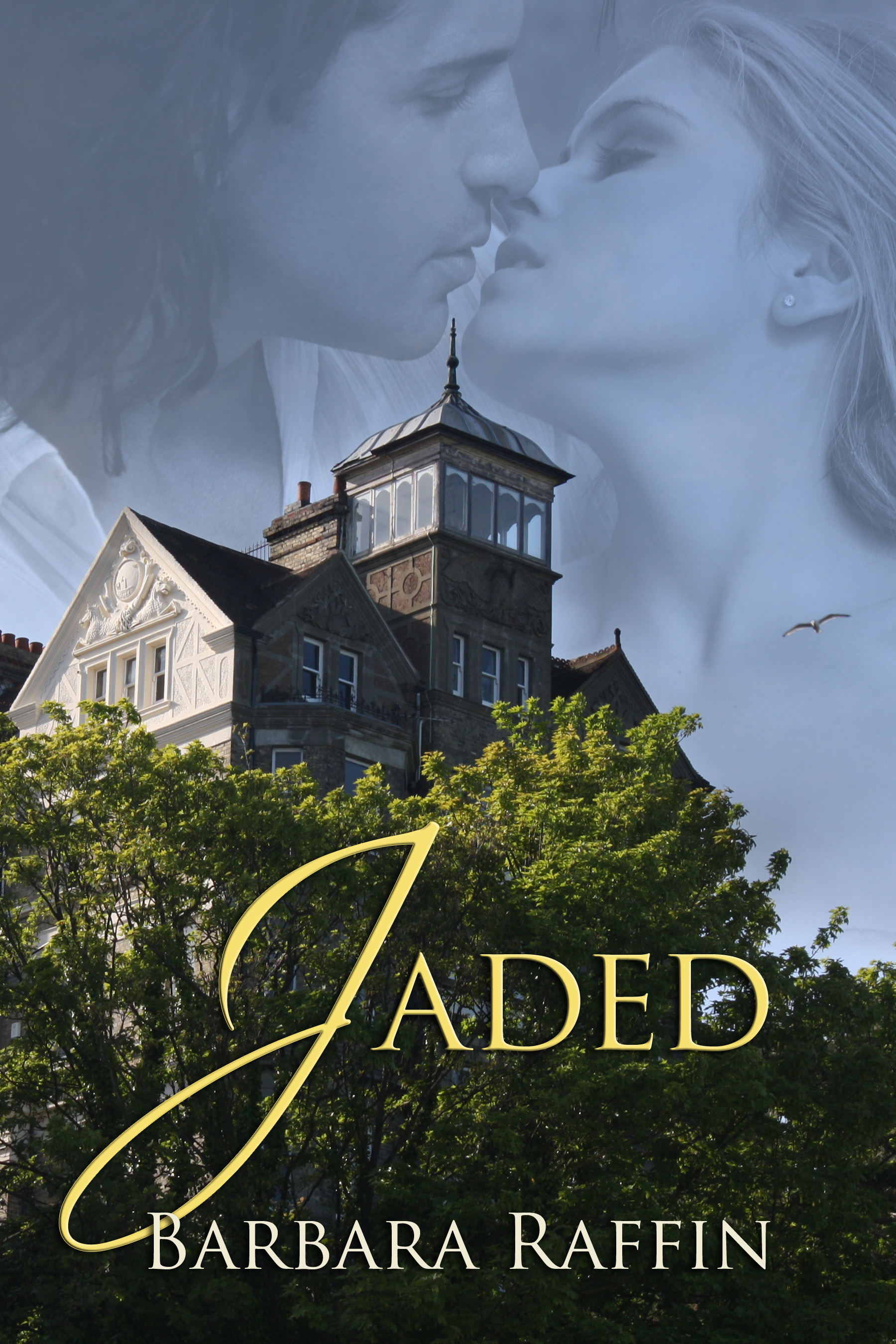 All Hannah Calder and Jake Griffin need do to overcome their fear of love is unravel the tragic mystery of two lovers long dead.
Reviews of Jaded
5 Angels! Barbara Raffin opens the anthology beautifully with Jaded. Ms. Raffin's ability to inject believable emotion into her characters will immediately lure readers into this moving tale. ~Amanda for Fallen Angels Reviews
4 1/2 hearts and Golden Rose Reviewer's Choice Award Winner! "Jaded by Barbara Raffin: The fascinating sexual tension and deja-vu will grab the reader by the throat! ~Love Romances
4 cups! Jaded is a spine tingling romance to be sure. ~Wateena for Coffee Time Romance Reviews
"Jaded by Barbara Raffin: Sometimes you review a story that is so profound you want the world to read it! ~Rolling Seas Reviews
Romantic Times Top Pick! 4 1/2 stars! Barbara Raffin kicks things off with a clever tale of reincarnated love, Jaded. ~Karen Sweeney-Justice for RT Book Reviews